by Suzan-Lori Parks
Directed by Lori Elizabeth Parquet
Recently named by the New York Times as "The Greatest American Play since Angels in America," Topdog/Underdog follows two black brothers trying to make a living as a card hustler and a performer in an arcade. Winner of the Pulitzer Prize in Drama, this is a thrilling, darkly comedic exploration of brotherly love and sibling rivalry.
DATES
August 8-10 and August 15-17 at 8pm
August 10-11 and 17-18 at 2pm
What critics Are Saying. . .
"Brotherhood in particular, and manhood in general, receive a searing look in Suzan-Lori Parks' complex and powerful Topdog/Underdog, which enjoys the intense, penetrating exploration it warrants in Lori Elizabeth Parquet's engrossing production for Princeton Summer Theater…[Lori Elizabeth] Parquet's staging masterfully combines the genuine with the theatrical. Frequently involvement becomes so great, and matters so natural, it's easy to forget a play, rather than a scene from life, is taking place…Byplay between [Nathaniel J.] Ryan and [Travis] Raeburn is perfect. You half want them to create a team and travel together doing play after play. They are that attuned to each other and their characters." — Neal Zoren, U.S.1
Princeton Summer Theater is concluding its 2019 season with a gripping production of Topdog/Underdog. This edgy, character-driven drama, which depicts the relationship between two African American brothers, is an apt fit for a season whose mission has been to "explore love in all its forms." … Princeton Summer Theater ends its season on a high note, thanks to outstanding performances by both of its actors, as well as a distinct unity of script and production. —Donald H. Sanborn III, Town Topics
"Four Stars!" - Vicki Weisfeld, The Front Row Center
"Princeton residents should take note of the incubator of talent residing in Hamilton Murray Theater each summer under the auspices of Princeton Summer Theater. This production is yet another example of the remarkable talent and resources PST assembles to offer a season with scope and variety." - Sarah Vander Schaaff, Broadway World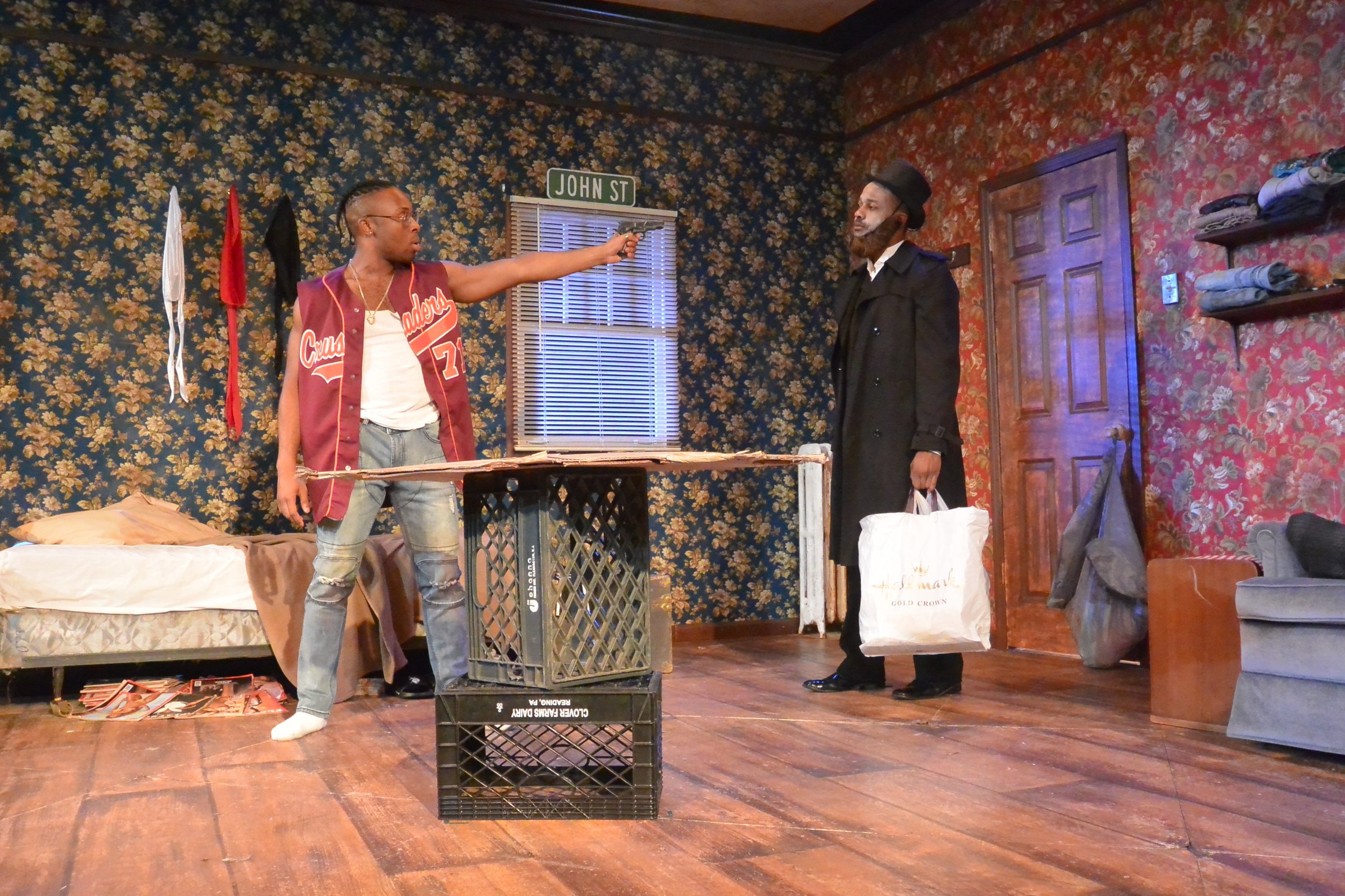 Lori Elizabeth Parquet (Director) is an actor, director, and playwright from New Orleans, Louisiana with a B.A. in Theatre Arts from Cornell University. Her New York City stage credits include Macbeth, Dispatches From (A)mended America (Off-Broadway, Epic Theatre Ensemble), The Providence of Neighboring Bodies (Dutch Kills Theater/Ars Nova), The Honeycomb Trilogy: Sovereign (Gideon Productions), Medea (Phoenix Theatre Ensemble), Dog Act, Ajax in Iraq, Honey Fist (Flux Theatre Ensemble), and Republic, Baal, Murder In the Cathedral (JACK/Hoi Polloi). She made her international debut performing in Pillars of Society at Teater Ibsen in Skien, Norway. She also performed in The Providence of Neighboring Bodies at the Edinburgh Fringe Festival in 2018. As a director, Lori has assistant directed The Public Theater's most recent Shakespeare in the Park productions of As You Like It, and Twelfth Night. She just served as Associate Director of New York City Center's Encores: Off-center production of Maria Irene Fornes' Promenade. As a playwright, Lori was selected as one of six featured playwrights for Season Five of the Fire This Time Festival and has had her short plays produced through Flux Theatre Ensemble and New York Madness.
Travis Raeburn (Booth) was born in Brooklyn and raised in Queens. Credits include Netflix feature First Match (Jamal), Amazon Prime's Civic Mind (Antonio),and The Odyssey (Prince of Phaeacians) at The Delacorte Theater. Educated at LaGuardia Arts High School and going into his senior at SUNY Purchase's acting conservatory this fall. Travis would like to thank all of the crew who made this production possible and Lori and Nathaniel for making this process worth while. He is forever in endless gratitude and debt to his mother and grandmother for their endless love and support.
Last but not least to all the black bodies from the motherland to across the world who are over looked. We are here. They can not erase us. We will not stop.
"In this country American means white. Everybody else has to hyphenate."- Toni Morrison
Nathaniel J. Ryan (Lincoln) is a professional artist from New York who has appeared on 'Blue Bloods', 'Random Acts of Flyness' and many numerous theatre productions. He is grateful to be performing at PST, and is extremely excited to be a part of this show. He would like to thank his friends, and family. As well as the cast and crew.
"Don't push me cause I'm close to the edge. I'm trying not to lose my head. It's like a jungle sometimes. It makes me wonder how I keep from going under"
~ Grandmaster Flash